via UFC:
http://www.youtube.com/user/UFC
I found GSP wearing a Superman shirt pretty hilarious. Also his comment about needing to be insane to be champion was pretty good. Johny Hendricks' "vicious side" should have ample time in the title fight. GSP's trainer addressed his plans to "retire" they explained that GSP hasn't lost interest in the sport, just things that happen in the sport. He wants to keep fighting.
The brick story is crazy, GSP carried a brick around with him everywhere after losing to Matt Serra to represent the weight that can put on someone's mind, losing that is not that brick. Didn't know GSP was a fan of Shoeki Matsui (I've seen his stuff on youtube lol while searching for MMA stuff), knew he did K-Karate but I didn't know he followed guys like that. Pretty cool really.
Hendricks' daughters adorable lol. Just thought I'd point that out. Interesting look at his life when talking about how his wife wasn't a fan of fighting. It's cool seeing how normal Hendricks really is, you'd never what he did for a living if you just met him on the street. Another Superman reference? This time from Hendricks' wife comparing the different sides of Johny. I love that he's a family man, and it drives him to succeed.
So to sum up personalities shown in this episode, GSP is a respectful guy and honors those that came before him, Hendricks is a family orientated, down to earth, humble guy.
Now on the professional side lets break them down.
ITTTTTTTTTTTTTTSSSSSSSSSSSSSS TIIIIIIIIIIIIIIIIIIIIIIIIIIIIIMMMMMMMMMMMEEEEEEEE!!!
IN THE RED CORNER!!!! DEFENDING UFC WELTERWEIGHT CHAMPION!!
Georges "Rush" St-PierreHeight:
5 ft 10 in (1.78 m)
Weight:
170 lb (77 kg; 12 st 2 lb)
Reach:
76 in (193 cm)
Fighting out of:
Montreal, Quebec, Canada
Team:
Jackson's MMA, Tristar Gym
Rank(s):
3rd dan black belt in Kyokushin kaikan, 1st-degree Black Belt in Brazilian Jiu-Jitsu under Gracie Barra Montreal,Black belt in Gaidojutsu, Black belt in Shidokan
Mixed martial arts record
Total:
26
Wins :
24
By knockout:
8
By submission:
5
By decision:
11
Losses:
2
By knockout:
1
By submission:
1
Highlights/Notable Wins
IN THE BLUE CORNER!!!!!!!!!! THE CHALLENGER!!!!!!!!!!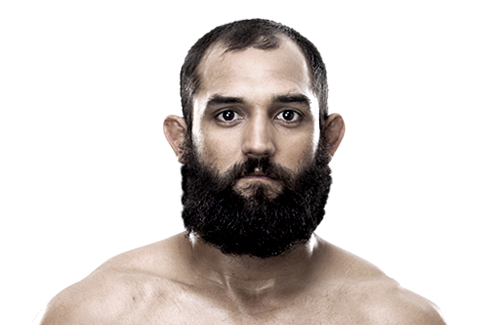 Johny "Bigg Rigg" HendricksHeight:
5 ft 9 in (1.75 m)
Weight:
170 lb (77 kg; 12 st)
Reach:
69.0 in (175 cm)
Fighting out of:
Dallas, Texas
Team:
Team Takedown
Rank(s):
NCAA Division I Wrestling
Mixed martial arts record
Total:
16
Wins:
15
By knockout:
8
By submission:
1
By decision:
6
Losses:
1
By decision:
1
Draws:
0
Highlights/Notable wins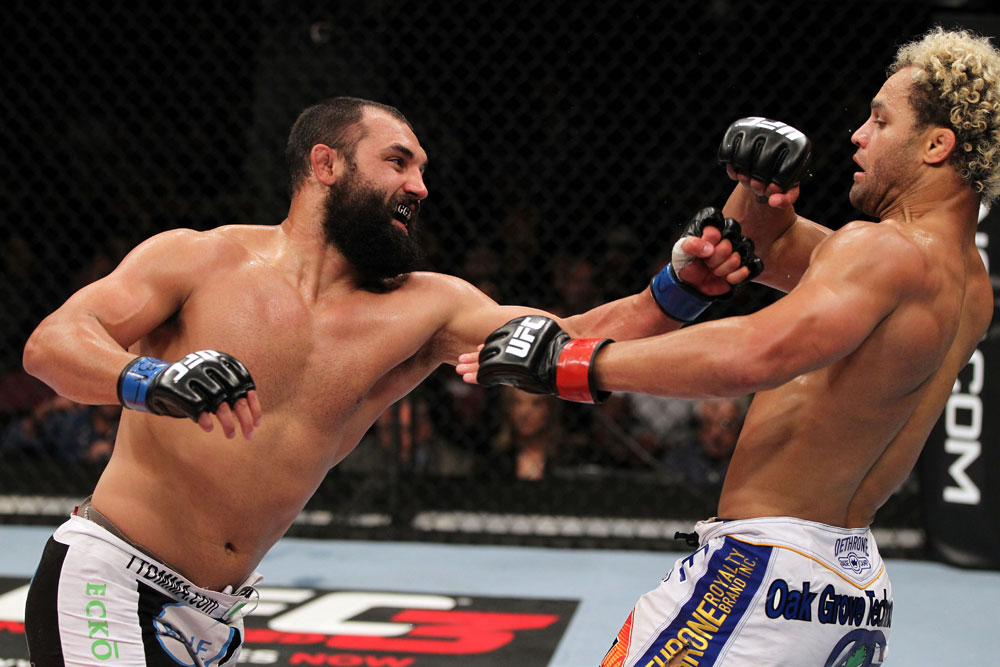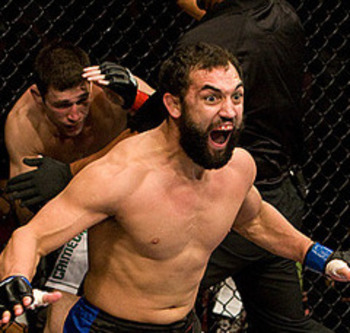 Keys to victory - GSP:
In my opinion, GSP needs to avoid Johny's lefthand (duh?) while being aware of Johny's willingness to take him down, GSP also needs to use range via his kicks and diverse striking arsenal and his patented jab. Circle away from Johny and use strikes to open up for offensive grappling opportunities, but don't engage if Johny's back is to the cage he's bigger and stronger and could turn GSP over in the blink of an eye.
Keys to victory - Hendricks:
In my opinion, Hendricks needs to either land a flush opening shot, not necessarily to finish GSP right away but to keep GSP on his toes if it doesn't KO him. Hendricks should utilize his high level wrestling and take the fight to GSP early and control the pace (easier said than done honestly). He needs to check all leg kicks from GSP, to not only slow GSP down but to prevent the champ from taking away from Hendricks's own power and shot (takedown shot not a punch shot lol).
All and all good fight, hope to see Hendricks get the W. Enjoy it guys
;)