And is happening in Las Vegas, AMERICA. Likely in May or in July at Latest.
Confirmed by Espn:
"
LAS VEGAS -- The UFC is planning to promote a middleweight title fight between Chris Weidmanand Vitor Belfort in Las Vegas.
UFC CEO and co-owner Lorenzo Fertitta confirmed the plans to ESPN.com via text on Thursday. Weidman will be seeking the second defense of his 185-pound title.
"Depending on Chris Weidman, I'd like to do Vegas [in] May or July," Fertitta said.
Belfort (24-10) has not fought inside the U.S. since August 2011. He fought three times in 2013, all of which took place in his native country of Brazil.
The 36-year-old has been approved a therapeutic use exemption for testosterone replacement therapy in Brazil, but would have to apply before the Nevada State Athletic Commission for the same privilege in Las Vegas.
Keith Kizer, executive director of the NSAC, has expressed some doubt in Belfort's chances at receiving approval to use TRT, based on a positive drug test he submitted in Las Vegas in 2006.
Belfort has defended his use of TRT numerous times in 2013. Immediately after watching Weidman's second-round TKO victory over Anderson Silva last weekend in Las Vegas, Belfort expressed confidence he could receive a TUE there if necessary.
"I'm able to fight anywhere," Belfort said. "I have done everything by the book. Everybody knows that people cheat but I don't. I'm very open and very loyal to my principles."
Ray Longo, Weidman's head trainer, told ESPN.com on Thursday he expected the fight would take place within the United States and holds some reservation over the legitimacy of Belfort's previous TRT use.
"I know Chris is beating the guy but why give him an advantage?" Longo said. "Why does he deserve that? All he did was abuse his body with steroids so that now he needs the exemption. It's bull----."
Belfort made his UFC debut as a heavyweight in February 1997. He won the UFC light heavyweight title against Randy Couture at UFC 46 seven years later. He fought Silva for the middleweight title in February 2011, suffering a first-round knockout.
Weidman (11-0) is the No. 3 pound-for-pound fighter in the world, according to ESPN.com. He took the title from Silva in a second-round knockout in July, and then defended it against the Brazilian at UFC 168 via second-round TKO."
http://espn.go.com/mma/story/_/id/10233754/ufc-promote-chris-weidman-vitor-belfort-title-fight
This is a Super fight no doubt about it between THE 2 BEST fighters in the World right now by Kilometers, nobody else even comes close.
And being as that it will take place in the USA makes it all the more interesting. Both are coming off the biggest years an mma fighter can possibly have.
This will be the best and biggest fight of all time no doubt about it.
Vitor: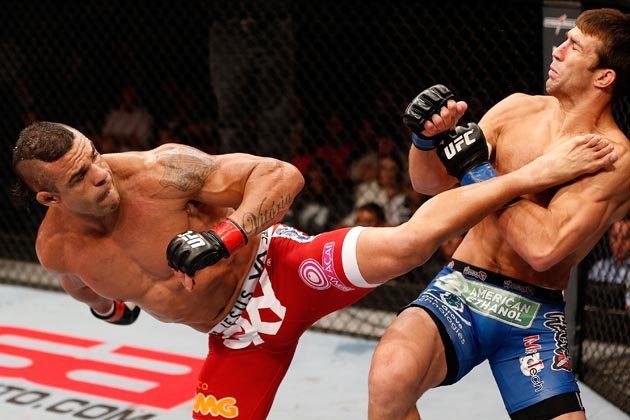 Weidman:
So who takes it and how? 
Thank you and please Discuss.