#1.) Team Can Crusher - Headcoach Juice64011 - 7 points
#1.) Hitem N Submitem Fight Camp - Headcoach Wedo619 - 7 points
#3.) Team Amazin' - Headcoach NyteRyder - 8 points
#4.) Team Pick Systems - Headcoach JChristain522 - 11 points
#5.) Champ Crusher - Headcoach Jason_H - 17 points
#5.) The Whitezilians - Headcoach Epiqu1n - 18 points
#6.) Team Beta Male - Headcoach Ares11 - 21 points
#8.) GOATCAMP - Headcoach LayDownDead - 22 points
#9.) Bullshido MMA - Headcoach Steelernation43 - 24 points
#10.) Team Identity - Headcoach Identity - 26 points
#11.) The Kuddles Krew - Headcoach mutharasha - 34 points
#11.) The MMA Alligators - Headcoach Mirko_Cro_Cop - 34 points
#1.) Team Amazin' - Headcoach NyteRyder - (13-1) (+12)
#2.) Hitem N Submitem Fight Camp - Headcoach Wedo619 - 11-3) (+8)
#3.) Team Can Crusher - Headcoach Juice64011 - (8-2) (+6)
#4.) Champ Crusher - Headcoach Jason_H - (8-3) (+5)
#5.) Team Beta Male - Headcoach Ares11 - (10-6) (+4)
#6.) The Whitezilians - Headcoach Epiqu1n - (13-10) (+3)
#6.) Team Pick Systems - Headcoach JChristian522 - (4-1) (+3)
#8.) Team Identity - Headcoach Identity - (6-5) (+1)
#8.) GOATCAMP - Headcoach LayDownDead - (4-3) (+1)
#10.) Bullshido MMA - Headcoach Steelernation43 - (10-10) (0)
#11.) The Kuddles Krew - Headcoach mutharasha - (4-5) (-1)
#12.) The MMA Alligators - Headcoach Mirko_Cro_Cop - (8-10) (-2)
#1.) Team Amazin' - Headcoach NyteRyder - (93%)
#2.) Team Can Crusher - Headcoach Juice64011 - (80%)
#2.) Team Pick Systems - Headcoach JChristian522 - (80%)
#4.) Hitem N Submitem Fight Camp - Headcoach Wedo619 - (79%)
#5.) Champ Crusher - Headcoach Jason_H - (73%)
#6.) Team Beta Male - Headcoach Ares11 - (63%)
#7.) The Whitezilians - Headcoach Epiqu1n - (57%)
#7.) GOATCAMP - Headcoach LayDownDead - (57%)
#9.) Team Identity - Headcoach Identity - (55%)
#10.) Bullshido MMA - Headcoach Steelernation43 - (50%)
#11.) The MMA Alligators - Headcoach Mirko_Cro_Cop - (44%)
#11.) The Kuddles Krew - Headcoach mutharasha - (44%)
#1.) Hitem N Submitem Fight Camp - Headcoach Wedo619 - $157.500
#2.) Team Can Crusher - Headcoach Juice64011 - $126,000
#3.) Bullshido MMA - Headcoach SteelerNation43 - $64,000
#4.) The Whitezilians - Headcoach Epiqu1n - $63,500
#5.) Team Amazin' - Headcoach NyteRyder - $59,000
#6.) Team Pick Systems - Headcoach JChristian522 - $44,000
#7.) GOATCamp - Headcoach LayDownDead - $42.500
#8.) Champ Crusher - Headcoach Jason_H - $22,000
#9.) Team Identity - Headcoach Identity - $18,500
#10.) Elysium MMA - Headcoach Ares11 - $3,500
#11.) The MMA Alligators - Headcoach Mirko_Cro_Cop - $13,000
#12.) The Kool Kats Krew - Headcoach mutharasha - $10,000
(jason_H) Alex Gustaffson vs. Jimi Manuwa (epiqu1n)
(forbar) Michael Johnson vs. Melvin Guillard (nyteRyder)
Brad Pickett vs. Neil Seery
(wedo619) Gunnar Nelson vs. Omari Akhmedov (Jason_H)
Cyrille Diabaté vs. Ilir Latifi
Luke Barnatt vs. Mats Nilsson
Brad Scott vs. Cláudio Henrique da Silva
Davey Grant vs. Roland Delorme
Igor Araújo vs. Danny Mitchell
Phil Harris vs. Louis Gaudinot
(LayDownDead) Johny Hendricks vs. Robbie Lawler (wedo619)
(juice64011) Carlos Condit vs. Tyron Woodley (identity)
(Mirko_cro_cop)Diego Sanchez vs. Myles Jury (juice64011)
Jake Shields vs.Hector Lombard(Epiqu1n)
(wedo619) Ovince St. Preux
vs. Nikita Krylov
(Ares11) Kelvin Gastelum vs. Rick Story (Epiqu1n)
Raquel Pennington vs. Jessica Andrade
(Epiqu1n) Dennis Bermudez vs. Jimy Hettes (Mirko_cro_cop)
Sean Spencer vs.
Alex Garcia (Nyteyder)
Renee Forte vs. Frank Trevino
Will Campuzano vs.
Justin Scoggins (Epiqu1n)
Robert McDaniel vs Tor Troeng
Daniel Pineda vs. Robert Whiteford
(steelerNation43)Maurício Rua vs. Dan Henderson (SteelerNation43)
(Epiqu1n) Cezar Ferreira
vs. C.B. Dollaway
Leonardo Santos vs. Norman Parke
(Jason_H) Fabio Maldonado
vs. Gian Villante
Michel Prazeres vs.
Mairbek Taisumov (Mirko_Cro_cop)
Rony Jason vs. Steven Siler
(LayDownDead) Diego Brandao
vs. Will Chope
Ronny Markes vs. Thiago Santos
Jussier Formiga vs.
Scott Jorgensen (SteelerNation43)
Thiago Perpétuo vs. Kenny Robertson
Godofredo Castro vs. Noad Lahat
Francimar Barroso vs. Hans Stringer
Champ Crusher - Headcoach Jason_H
(#1/50K)Junior''Cigano''DosSantos
(#1/50K)Alexander''TheMauler''Gustaffson
(#4/50K)Lyoto''TheDragon''Machida
(#7/25K) Costa Phillipou
(ur/10K)Stephen''Wonderboy''Thompson
(ur/10K) Fabio Maldonado
(ur/10K)Omari Akhmedov
(#5/50)''Korean Zombie'' Jung Chan-Sung
(ur/10K)Ajamaine Sterling
(ur/10K)Sean Strickland
(ur/10K)Krzystof Jotko
(ur/10K)Doo Ho Choi
(ur/10K)Beneil Dariush
(ur/10K)Michinori Tanaka

The MMA Alligators - Headcoach Mirko_Cro_Cop
(#1/50K)Chad''Money''Mendes
(#4/50K)Demian Maia
(#1/50K)Joseph Benavidez
(#7/25K) Tim Elliott
(#2/50K)Gilbert Melendez
(ur/1oK)Feijao Calvacante
(ur/10K) Jimy Hettes
(ur/10K)Diego''TheDream''Sanchez
(ur/10K) Pat Healy
(ur/10K)Siyar Bahardurzada
(ur/10K)Mairbek Taisumov
(ur/10K)Rashid Magomedov
(ur/10K) Gabriel''Napao''Gonzaga
(ur/10K) Thiago Alves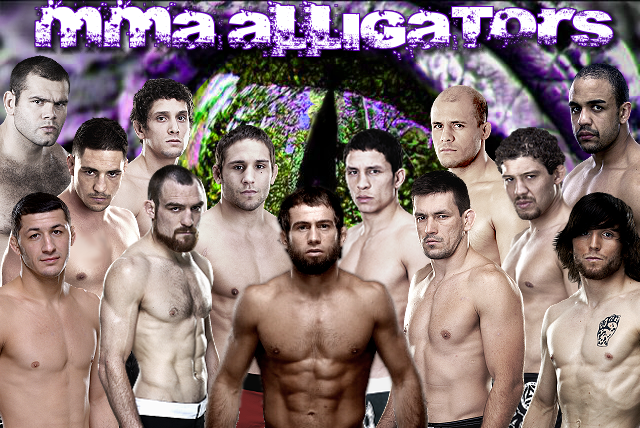 Bullshido MMA - Headcoach SteelerNation43
(ur/10K) BJ Penn
(c/100K)Cain Velasquez
(#7/25K)Alistair''The Reem''Overeem
(#10/25K) Ivan Menjivar
(ur/10K)Nate Marquardt
(#9/25K)Gegard''Dreamcatcher''Mousasi
(ur/10K)Tatsuya Kawajiri
(#10/25K)Shogun Rua
(ur/10K)Lorenz Larkin
(ur/10K) Dong Hyun Kim
(ur/10K)Tim Kennedy
(#7/25K) Dan Henderson
(ur/10K)Mark Hunt
(#7/25K)Scott Jorgenson
Hitem N Submitem Fight Camp - Headcoach Wedo619
(#1/100KRonda''Rowdy'' Rousey)
(#3/50K)Ronaldo''Jacare''Souza
(#8/25K)Robbie''Ruthless''Lawler
(ur/10K) Gunnar Nelson
(ur/10K) Sergio Pettis
(#1/50K)Anderson Silva
(ur/10k)Ovince St. Preux
(ur/10k)Brad Pickett
(#7/25K)Khabib Nurmagomedov
(ur/10K)Kelvin Gastelum
(ur/10k)Clint Hester
(ur/10K)Ali Bagautinov
(ur/10k) Yoel Romero
(ur/10k) CB Dolloway
The Kuddles Krew - Headcoach mutharasha
(#2/50K)Vitor''ThePhenom'' Belfort
(#9/25K)Chael Sonnen
(#8/25K)TJ Dillashaw
(#3/50K)Frankie''TheAnswer''Edgar
(ur/10K)Pat''HD''Barry
(ur/10)K Erik Perez
(ur/10K)Darrel Montague
(ur/10)Robert Drysdale
(ur/10K)Charles''DoBronx''Oliveira
(ur/10K)Thiago Silva
(ur/10K)Adriano Martins
(#10/25K) Dominick Cruz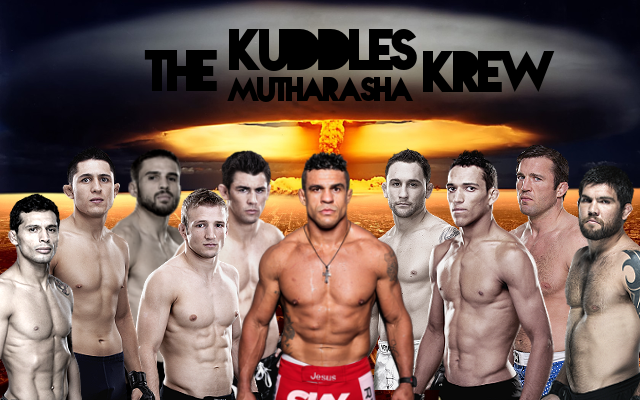 Team Beta Male - Headcoach Ares11
(c/100K)Chris''All American''Weidman
(ur/10K), (#2/50K)John Dodson
(ur/10K)Rustam Khabilov
(#3/50K)Rory'Ares''MacDonald
(#6/25K)Raphael DosAnjos
(ur/10K) Jeremy ''lil heathen'' Stephens
(#7/25K)Dennis Siver
(ur/10K)Brandon''Rukus''Thatch
(ur/10K)Tarec Saffadiene
(#2/50k)Sarah McMann
(ur/10K)Alptekin Ozkilic
(ur/10k)Anthony Johnson
(ur/10k)Steven Siler
(ur/10k)Chris Beal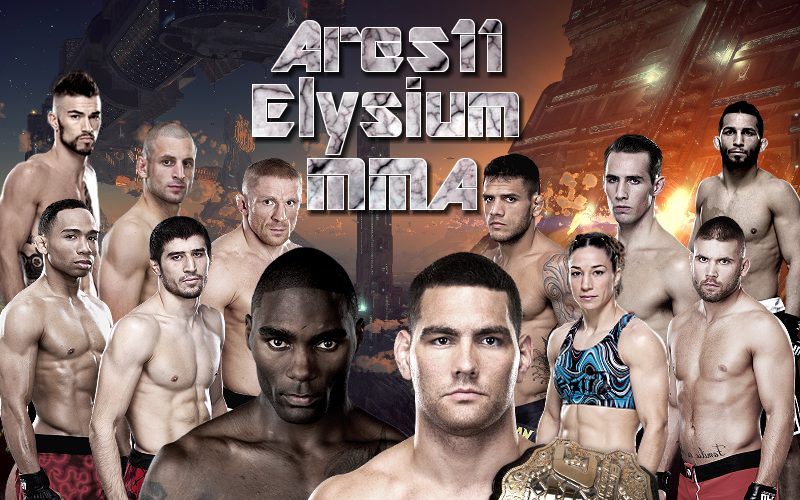 The Whitezilians - Headcoach Epiqu1n
(c/100K)Demetrious''MightyMouse''Johnson
(#10/25K)Matt''TheImmortal''Brown
(ur/10K)Brad Tavares
(ur/10K)Jorge''Gamebred''Masvidal
(ur/10K)Hector Lombard
(ur/10K)Ben Rothwell
(ur/10K)Dennis "The Menace" Bermudez
(ur/10K) Cezar Mutante
(ur/10K) Court McGee
(ur/10)Hyun Gyu Lim
(#3/50K)Michael McDonald
(ur/10K) Gleison Tibau
(ur/10K)Jimi ''PosterBoy'' Manuwa
(ur/10K) Al Iaquinta
(ur/10K)Rick Story
(ur/10K) Justin Scoggins
(ur/10K) Luke Barnatt
(ur/10K) Edson Barboza
GOATCamp - Headcoach LayDownDead
(c/100K)Jon''Bones''Jones
(#2/50K)Glover Teixeira
(#1/50K)Johnny''BiggRigg''Hendricks
(ur/10K) Diego Brandao
(ur/10K)Daniel Sarafian
(ur/10K)Ryan LaFlare
(ur/10K)William Patolino
(ur/10K)Derek Brunson
Team Can Crusher - Headcoach Juice64011
(ic/100K)Renan Barao
(ur/10K)Myles''Fury''Jury
(#2/50K)Carlos''NBK''Condit
(#8/25K)Luke Rockhold
(#5/50K)Travis Browne
(ur/10K)Erick Silva
(ur/10K) Andre''Touchy''Fili
(ur/10K)Tony''ElCucuy'' Ferguson
TEAM IDENTITY - Headcoach Identity
(ur/10K)Ed Herman
(#1/50)Cat Zingano
(ur/10K) Ed Herman
(#6/25K) Josh''WarMaster''Barnett
(ur/10K)Tyron"The Chosen One" Woodley
(#7/25K)Dennis Siver
(ur/10K) Tom Watson
(ur/10K) Jordan Mein
(ur/10K) Pat Cummins
(ur/10K)Shawn Jordan
(ur/10K) Alex Caceras
(ur/10K) Ilir Latifi
(#5/50K) Michael Bisping
Team Amazin' - Headcoach NyteRyder
(c/100K)Georges''Rush''St.Pierre
(#2/50K)Daniel''DC''Cormier
(ur/10K)Bobby''King''Green
(ur/10)Melvin"TheYoungAssassin"Guillard
(7#/25K) Donald''Cowboy''Cerrone
(#3/50K) ''Suga'' Rashad Evans
(ur/10K) Alex Garcia
(ur/10K) Uriah Hall
(ur/10K) Erik Koch
(#6/25K)Dustin''Diamond''Poirier
Team Pick Systems - Headcoach JChristian522
(50k) Fabricio Werdum
(25k) Stipe Miocic
(25k) Ryan Bader
(25k) Francis Carmont
(10k) Mike Pyle
(10k) Michael Johnson
(10k) Conor McGregor
(50k) Urijah Faber
(10k) Raquel Pennington
(50k) Ian McCall
(ur/10K)Daron Cruickshank
(25k) Roy Nelson
(25k) Jim Miller
_______________________________________________________________Rules
Each player will start with $200,000 to recruit up to 5 fighters to start with. How you spend your money is up to you. Players will take turns choosing their starting 5 fighters until rosters are filled or until no one has any money left. To avoid confusion and to keep it fair, cost and earnings are based on ranking instead of each individual fighters pay.
-Champs will cost $100,000 to recruit but your camp will receive $20,000 for their show money and another $20,000 if they win.
-Top 5 ranked fighters cost $50,000 but your camp will receive $7,500 for their show money and another $7,500 if they win.
-Top 6-10 ranked fighters cost $25,000 but your camp will receive $2,500 for their show money and another $2,500 if they win.
-Unranked fighters cost $10,000 but your camp will receive $1,500 for their show money and another $1,500 if they win.
You will also receive $5,000 for every bonus one of your fighters gets.
Official UFC Rankings
http://www.ufc.com/rankings
If a fighter in your camp moves up or down in ranking after a fight it will affect your earnings. The goal of the game is to ultimately have the most profitable camp, the best win/loss differential, and the best winning percentage. Some of which will also affect your recruiting.
You can recruit new fighters at anytime as long as you have the funds but your ability to recruit higher ranked fighters is based on your camps winning percentage. For example:
You can only recruit a Top 5 ranked fighter with a camp winning percentage of 70% or better.
You can only recruit a Top 5-10 ranked fighter with a camp winning percentage of 60% or better
And if your camp winning percentage falls below 50% you can no longer recruit until it improves.
Unlike like jonesy's, this game is suppose to simulate a more realistic camp to see who would really make the best gym owner. Anything goes. You can cut a fighter at anytime or trade a fighter for money another fighter in another camp at anytime.
If any player goes more than a month without posting in the thread their camp will be broken up and their fighters will be auctioned off.
Each player can recruit one new fighter and make one trade a week during the designated trade window (noon Saturday to noon Sunday central time)
P4P Ranking
Example:
Camp Bankroll rankings x Camp Fight rankings + the points of the camp fight rankings