David Haye
Well loudmouth Haye has piped up again in preparation for his March 4th showdown with Tony Bellew but it appears he has forgotten who he's fighting trying to draw up interest in a potential showdown between himself and Anthony Joshua.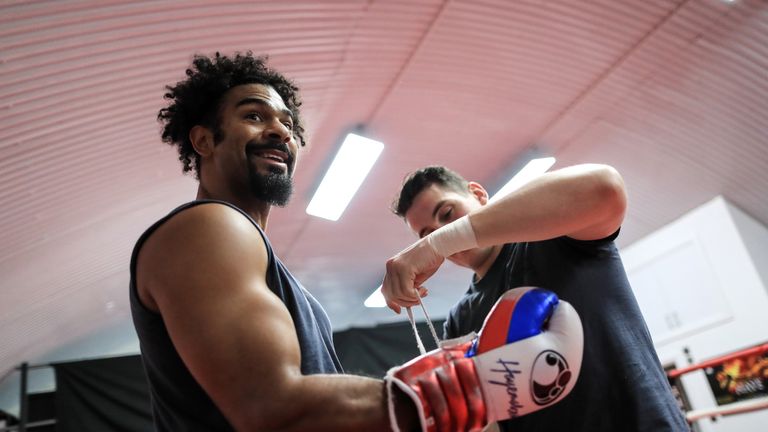 "If AJ beats Klitschko, which I and the rest of Great Britain are hoping he does, any time he is ready to do it I am ready," the 36-year-old told Sky Sports News HQ.
"I'd have fought him on my first fight back from retirement because I know I can beat him.
"Hopefully, if he wins, his team will have the confidence - David Haye is the biggest fight on the planet, let's make it happen. The ball is in his court."
Looking past Bellew could be very dangerous for Haye.
Amir Khan
Boxing pundit and former champion Barry McGuigan has told Amir Khan to steer clear of Manny Pacquiao
The boxing legend ran a poll on Twitter asking the fans to vote on who his next opponent should be.
Just under 45,000 fans responded with Khan the overwhelming winner over Kell Brook, Terence Crawford and Jeff Green.
McGuigan wasn't surprised by the result -- but believes Khan shouldn't entertain the idea.
"I would caution Khan against another high-octane super-fight off the back of a crushing defeat last time out," McGuigan said.
"Khan can't help himself -- he loves the show.
"But we saw when he stepped up from welterweight to middleweight to fight Saul Alvarez the dangers of biting off more than he can chew.
"Even at this advanced stage of Pacman's career anything less than 100 per cent would not be good enough for Khan, and even that might not be sufficient."
Vasyl Lomachenko
Junior lightweight world titleholder Vasyl Lomachenko, a two-time Ukrainian Olympic gold medalist and one of the best fighters in the world pound for pound, has a hard time getting top opponents to step into the ring with him. I suppose that's normal when your movement looks like something out of the Matrix.
He initially targeted a rematch against Orlando Salido the man who handed Lomachenko is only professional loss in only his second pro fight but Salido turned down the fight. Next on the list was world titleholder Jezreel Corrales for a unification fight, but Corrales also rejected an offer.
Finally they got an opponent by the name of Jason Sosa
Lomachenko was happy to finally have an opponent.
"I would like to thank Jason Sosa, who unlike the other champions, agreed to take this fight to determine the best in this weight division, even though everyone knows I am the division's Papi," Lomachenko said. "I moved up to 130 pounds hoping champions in this division were not cowards like those at 126 pounds. It looks like I was wrong. To all the other 'champions' in the 126-pound and 130-pound divisions, I say this to you, 'You are not champions, you are businessmen. Bad businessmen. By avoiding risks, you cheat the boxing fans, and that is bad business.'
"I came to this sport to prove to myself and others that I am this big and loud champion. So, while all of you continue to hide from me, I am going forward to achieve my goals. My next step is on April 8. See you there!"