After Nelson's victory over Alan Jouban at UFC London, John Kavanagh would like to see 'Gunni' take on Stephen Thompson.
SBG Ireland head coach John Kavanagh suggested the perfect fight for Gunnar Nelson after his second round submission win over Alan Jouban at UFC Fight Night 107 last night: A fight against two-time welterweight title challenger Stephen Thompson to determine 'the real Karate Kid'.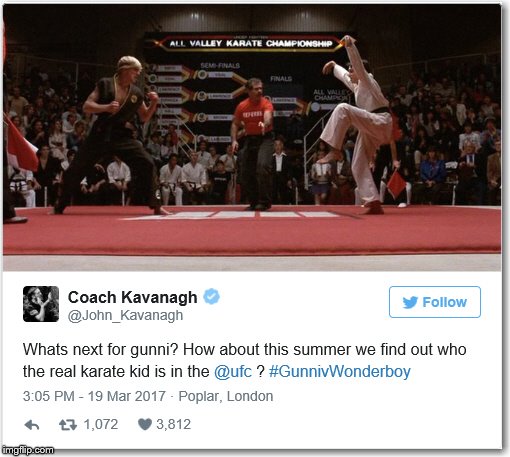 Now we all know Stephen Thompson is a very different beast from Alan Jouban but I like the idea of this match-up.
Wonderboy's still ranked 1st but he's on a two fight skid whatever way you look at it so he needs to get back in to the win column.
Nelson is ranked 9th and although that's a gap it doesn't mean this fight doesn't make sense. I don't really get the whole Karate Kid if Gunnar plays that game I think he loses but the classic grappler vs. striker match up is always interesting.
What do we think of Gunnar vs. Wonderboy? Who you got in that one?