Lions once freely roamed across Africa, Europe and Asia.
By the late 1800s, as few as ten Asiatic lions remained now there are over 500 living in India.
In 1965 the Gir Forest became a sanctuary to save the lions.
The lion population in and around the Gir forest in Gujarat has witnessed a fourfold increase in the five decades till 2015, according to a report published in scientific journal Current Science last week. That's the good news.
The not-so-good news, the report concludes, is that massive infrastructure projects such as railways and high-speed road corridors, as well as industrial, port and mining activities, are beginning to affect the only habitat of the Asiatic lion (Panthera leo persica) and are a major cause of concern for their future.
"During the last five decades (1965–2015), the approach for the Asiatic lion's conservation is one of the best efforts in the world. Unlike other super predators, the number of lions has increased fourfold and (that of) wild ungulates by over thirteen-fold in the Gir forest," said the analysis authored by H.S. Singh.
"Expansion and consolidation of the Gir protected area, habitat of the Asiatic lion, and response of prey and predator to the management and dispersion trend of lions outside the Gir forests are interesting and noteworthy. The distribution range of lions has also expanded to a large landscape in four districts in the state," the report said.
In May 2015, the Gujarat government released its latest lion census figures, which said Gir's Asiatic lion population had grown around 27%, from 411 in 2010 to 523 in 2015.
But with good news comes new problems, with record high numbers of lions they are running out of room and becoming over-crowded. "The increasing population of lions will not sustain in Gujarat in coming years. Not just lion-human conflicts but other problems too, like unnatural deaths and genetic disorders, will surface. Keeping lions only in Gujarat is also against international norms," said Ajay Dubey
The Supreme Court, in an April 2013 order, directed the Union environment ministry to shift some of Gujarat's lions to the Kuno wildlife sanctuary in neighbouring Madhya Pradesh. But the order has not been implemented so far.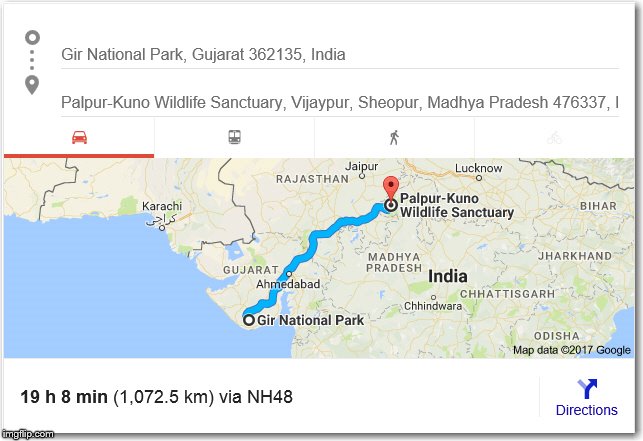 Asiatic lions, found only in Gujarat, have been classified as an endangered species.