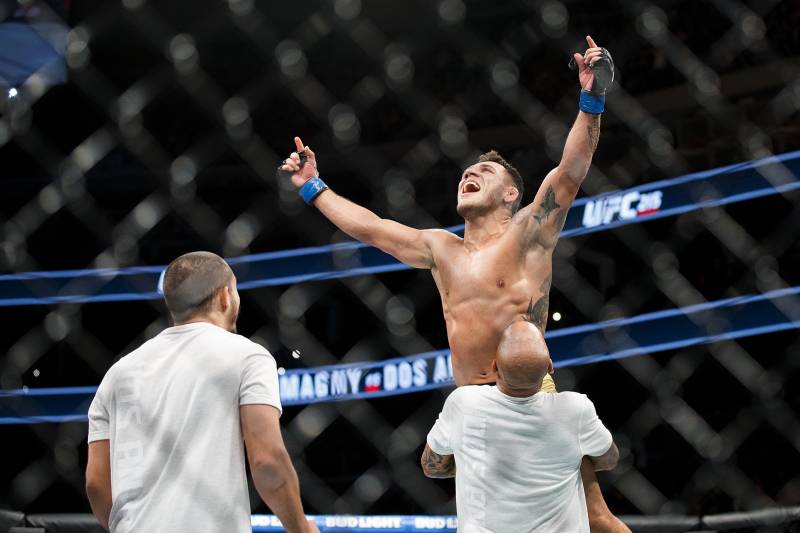 As the reigning king of the UFC welterweight division Tyron Woodley is used to having a target on his back. "The Chosen One" is also one of the most outspoken titleholders under the promotional banner, which only furthers the draw toward stepping into the cage with him.
Everyone seems to want to fight the heavy-handed powerhouse, and now Rafael dos Anjos' name can be officially added to the list.

The Brazilian former lightweight champion has found new life by moving up a weight class and notching back-to-back wins at welterweight
Immediately following the fight, dos Anjos told the UFC's Megan Olivi he's gunning for a shot at Woodley and championship gold.

"This division's wide open; all the top five, top six guys in this division have lost to the champion or to the last challenger, which was Demian Maia," dos Anjos said. "[Stephen] Thompson lost twice to Woodley already. I'm the new blood in this division. I was getting ready to fight Woodley if Maia didn't, but he ended up taking the fight.

"One thing I can be sure, is we're going to fight. I'm not going to let him walk around, and I'm going to make sure I push the pace. I'm not saying I will not use my strategy. Of course I will. But I will walk forward. I have confidence in me, in my cardio, and I'm going to make him work."
While Woodley is used to getting called out by potential contenders, that doesn't mean he's taking all applicants at this time. The former wrestling standout turned mixed martial arts champion is all about getting the biggest fights and most lucrative paydays possible at the current time, and dos Anjos doesn't necessarily fit the criteria in that regard.
"I didn't take it personally," Woodley said. "All I'm saying is there are a lot of guys in my division. They always put them in front of me, and everyone thinks they have the solution to beat me. But I think I'm the most well-rounded fighter. I punch the hardest in the UFC of all the fighters. And he's a great fighter. He's a former world champion. I do think one or two more fights in the division, with a great performance like he had this evening, we will see him on the other side of the Octagon. At that point, we'll be ready to role.

"I've got a Gucci belt you can have. I've got a Louis Vuitton belt you can have, but the welterweight gold, the 14 pounds, brother -- it's going to be a long time before I give that up.

"I want to fight at middleweight," he added. "So, I'm thinking about taking a trip up to middleweight."